UNIQUE SPOT ON THE BANKS OF THE IJ
KAAP is situated in a prime location in Amsterdam, directly on the IJ and diagonally opposite Pontsteiger, where the ferry docks. This is one of the last waterfront spots in Amsterdam, sandwiched between the vibrant creativity of the NDSM wharf and the international Overhoeks neighbourhood, and soon to be enveloped by the new Oeverpark. There is plenty to do around KAAP. The city's most iconic hotspots, most fashionable cafés and tastiest food are but a stone's throw away, and all with a view of the IJ. Enjoy a sumptuous three- or four-course dinner at Café Modern or sip on a latte at one of NDSM's surprising coffee joints. Eye offers a cinematic view of the IJ and the city skyline, as ships languidly glide by.  For daily shopping, there are large and small shops nearby, as well as a the farmers' market and organic market on Fridays. Click on the image for Google Maps.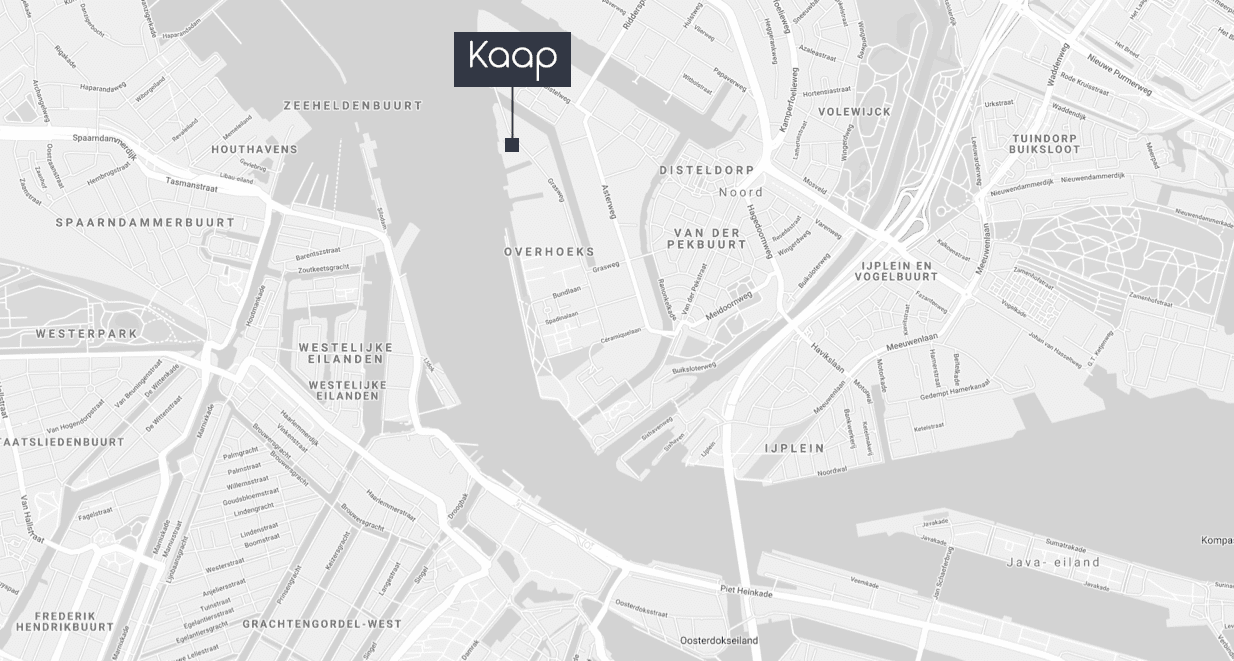 NOORD IN DEVELOPMENT
Kaap is located on the north bank of the IJ, in the Buiksloterham district, between Overhoeks and the NDSM wharf. This part of Amsterdam-Noord is rapidly transforming into a dynamic urban hub, combining the residential, recreational and professional aspects of life. In the future, this zone will be home to blend of creative businesses, recreation, industrial activity and residential properties, retaining its dynamic character. KAAP is located just in front of Buiksloterham, Amsterdam's first circular neighbourhood, which is part of the so-called 'Living Lab', in an attempt to explore new ways of living and working together by embracing sustainability and reuse. The NDSM wharf, accessible by bicycle and footbridge, was once the beating heart of Amsterdam's shipbuilding industry and is now a vibrant neighbourhood with surprising restaurants, coffee shops and street cafés, art, homes, hotels, a city beach and special festivals. Overhoeks is a new neighbourhood right next to the Eye film museum, hugging Amsterdam Central Station. For more information about development in Noord, read more.